Lee Craigie – current female British Champion and Commonwealth Games Gold hopeful joined our volunteers at the track on Friday 18th October and gave her endorsement and showed her support for the huge local volunteer effort which has created this fantastic resource. Huge thank you to her and the many volunteers who mucked in on Friday especially those from State Street Bank and Anderson Strathern Solicitors. We can't do this without your support.
More info on the Bike Track and Gypsy Brae
What do you mean by a bike track?
By 'Bike Track' in this case we mean a short circuit (which may be added to later) for children, families and adults to practice their mountain biking and downhill skills. The circuit will be a short one way narrow path with some small purpose built bumps, humps and tight bends as well as 1 or 2 larger jumps for the more daring. Members of the public will be able to use the track all year at their own risk but MYDG & MY adventure will run regular training sessions to learn and develop your mountain bike skills.
Where is it?
Gypsy Brae is a stretch of land on the North Shore of Edinburgh, Granton, slightly West of the West Shore Industrial Estate – the land is tucked behind Craigroyston House, accessed by the corner of West Shore Road see map below:
Grid ref 219773
Many thanks to Starbucks, State Street volunteers and Scottish Gas Network volunteers and Edinburgh City Council for making this fantastic community project possible in the beginning.
** PRESS COVERAGE **
From STV website 11 May 2013
Volunteers dig in to create capital's largest mountain bike track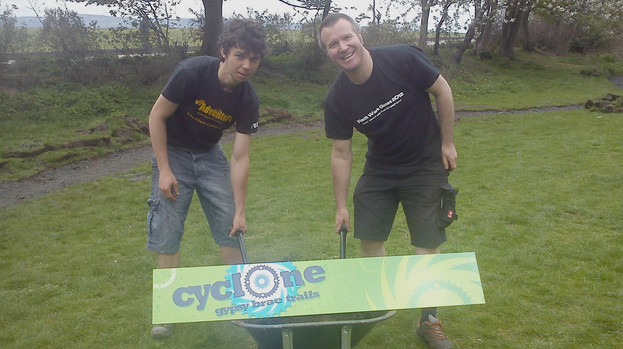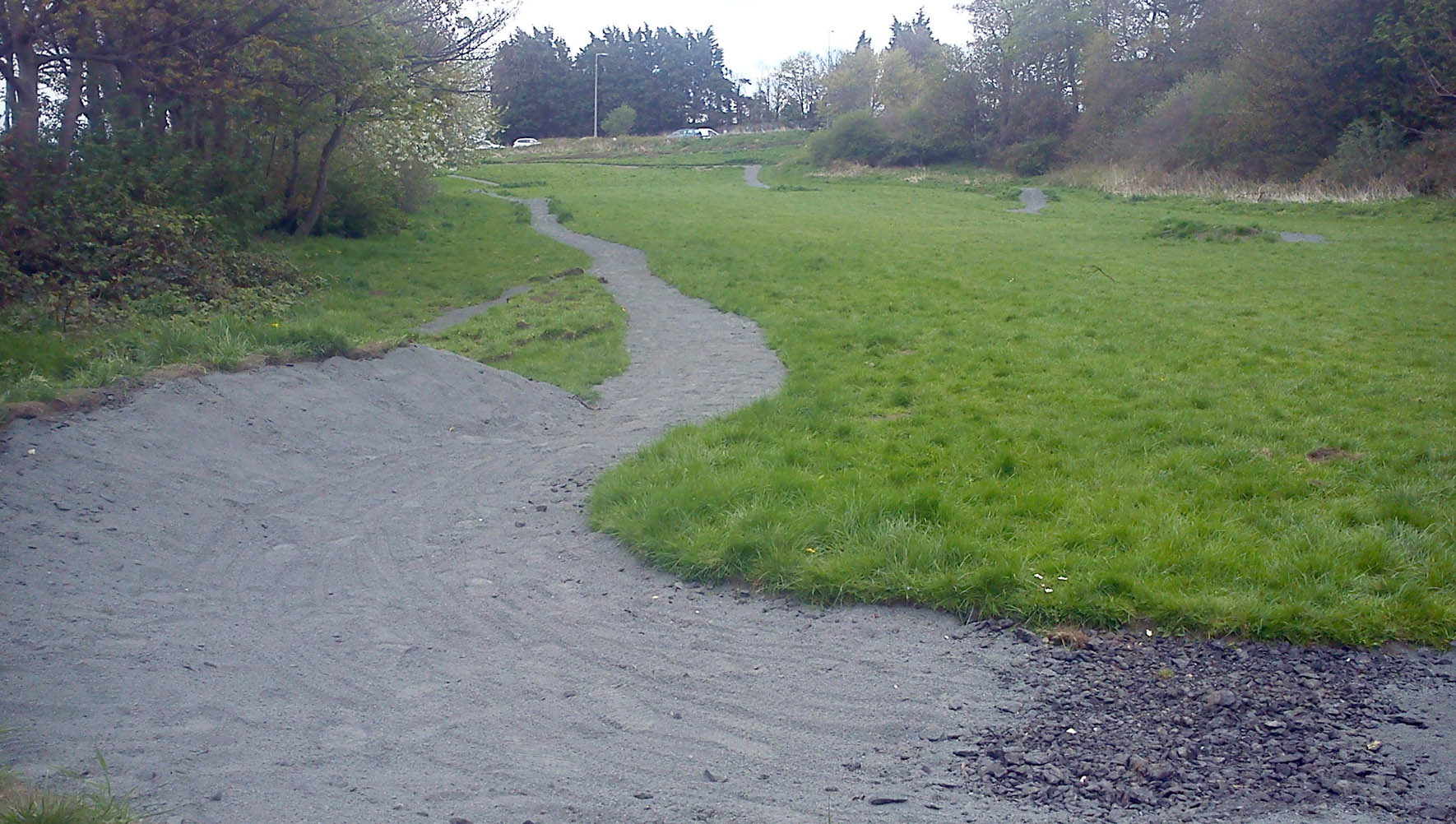 The project, which is being managed by the social enterprise arm of MYDG, My Adventure, will provide an outdoor area that can be used by people of all ages and abilities – something which will make a difference to the area, says Jonny Kinross, manager of My Adventure. He said: "We've got a huge area of land and we're absolutely delighted. "Once this is finished it will be, as far as we are aware, the biggest mountain bike track in Edinburgh – which is great for a community like this because it introduces a positive thing for the area. "We felt it was important that local people build it, partly because we wanted local young people to be involved because then they'll look after it. We've already seen that because they are here unpaid and they could walk away at any point but they've not and they've worked really hard. "We're also bringing together people that don't normally hang out together too – a wonderful mix of people who have very few opportunities in life just now working side by side as equals with the heads of banks and their directors. "The thing about building it in this area is it couldn't be more necessary because there's a lot of health issues in this area – they need the help and support to encourage families to get out with their kids. "Having this on their doorstep takes away some of those barriers."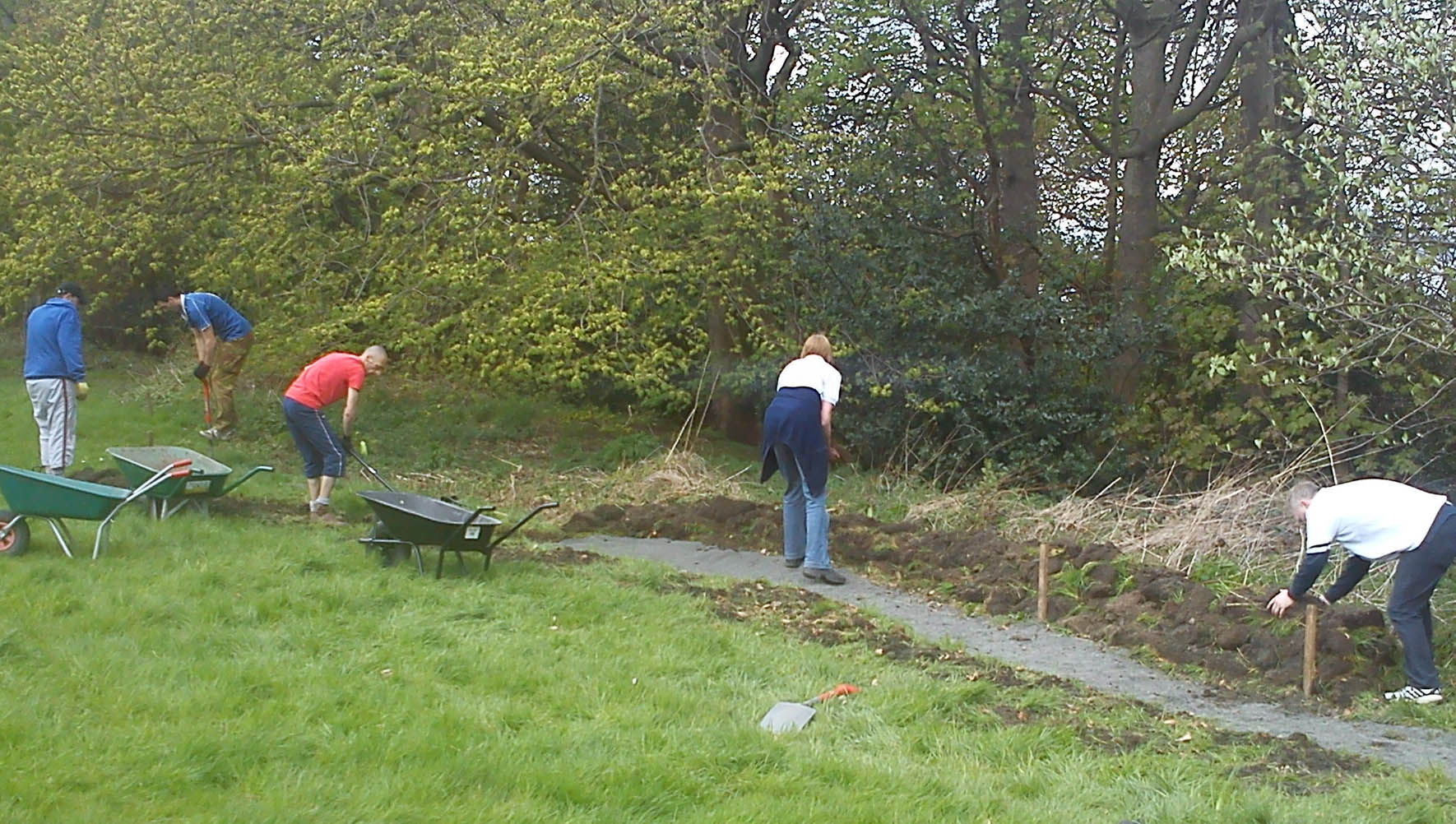 The track will continue to be developed, with another volunteer day being held on May 27 from 9am and will finally be officially opened during the Edinburgh Festival of Cycling on June 22. However, while the dreams for the mountain track have grown bigger and better than anything Peter could have imagined, the seeds the development has planted as well could see the whole area transformed in years to come. "Although our main thing is our mountain bike track, a lot of young people are also asking for forest schools and vegetable plots," said Peter. "The space is massive and we know it's unused so the future holds lots of different things." To be involved in the next volunteer day on May 27, email
info@myadventure.org.uk
.
From the evening news 24.09.12:
Mountain bike track tipped to create Muirhouse sporting legacy
A NEW mountain bike track being built in Muirhouse will make a "lasting contribution" to the sport in North Edinburgh, supporters have claimed.
The circuit, to be sited at Gypsy Brae recreation ground, was given the green light following a Dragons' Den-style pitch by community activist Peter Airlie to a panel of investors including representatives from coffee shop chain Starbucks, Edinburgh City Council and other businesses. In addition to a £2000 investment, the pitch secured support in kind for the new sports facility, including a 50-strong workforce taken from State Street Bank and Scottish Gas 
Networks, who will roll up their sleeves and join a community bid to install the track over two days. The council also pledged to donate 40 tonnes of hardcore material which will form the terrain for the family friendly circuit, while the whole plot is being rented for just £1 a year. Organisers intend to construct a more technically advanced course in the future. It is hoped that the new Cyclone Mountain Bike Track, launched by Muirhouse Youth Development Group (MYDG), will encourage more people to take up physical activity in one of the most socially deprived areas of Edinburgh. Speaking about his bid for funding, key organiser Peter Airlie said: "I had to walk into a room with about ten people and do a pitch in front of them. I'm quite happy to talk normally but I'd been expecting about two 
people from Starbucks so it was quite nerve-wracking, but everyone seemed to like the project so I didn't really need to talk them into it."
Mr Airlie explained that many local youngsters had expressed a desire to try their hand at mountain biking but a lack of facilities prompted him to investigate setting up a community course in 
Muirhouse. "We do the cycling proficiency and one of the big things we always get is, 'Where can we go mountain biking?'" he said. "But that's Glentress, and it's an hour-and-a-half away so the idea was to bring a mini-Glentress to the city so they can cycle straight from their door. "It's off-road so it will keep them healthy and out of trouble because the track is in the middle of nowhere where there's nothing to do. It will give them a chance to go somewhere without being in danger." Jonny Kinross, social enterprise manager of MY Adventure – the commercial arm of MYDG – said: "Peter Airlie's Cyclone Bike Track project is radical and creative and probably the envy of many a politician and strategist, having successfully got together council, community projects and big business at a national and local level to make a lasting contribution to mountain biking and cycling in North Edinburgh. "This will raise the profile of the community across Edinburgh and create something the whole city will benefit from."